Trading Non-Farm Payroll Data
NFP Trading Opportunity and Risks
What is Non-farm Payroll?
It is the most important piece of information about the fundamental economy in the United States.
It significantly moves the forex chart in one direction or another.
Non-farm payroll data is the key fundamental indicator for the U.S economy which is a monthly statistic representing how many people are employed in the US, in manufacturing, construction, and goods companies. This term can also be known as NFP.
NFP has a good effect on USD pairs, better employment numbers (more payrolls added), good for the USD; worst figures, bad for the USD.
Non-Farm Payroll Predictions
There are several other key pieces of data involved in the non-farms release, those are
1. The unemployment rate Change
2. Average hourly earnings
3. Previous releases.
NFP Data impact on Forex Market hugely, a higher than expected reading should be taken as positive/bullish for the USD, while a lower than expected reading should be taken as negative/bearish for the USD. Lots of market analysts predict for NFP figures in advance of the actual release. In this event, the market became much volatile.  As forexfactory.com the foretasted value or Non-Farm Employment Change 180K but the actual value released 156K. The weaker job report had the reaction to surge EUR.
Trading Non-Farm Payroll Profitably
In the technical overview, the dollar traded bearishly and EURUSD is in Strongly Bullish that I have shown in my weekly forecast on 28th August. Which is here EURUSD is continuing bullish with the target of 1.2040.
To use the Movement during NFP we provide a Buy limit pending order that has been triggered the previous day of NFP. And during NFP we got our desirable movement and got the TP.
We had shifted focus on other reports related to job data.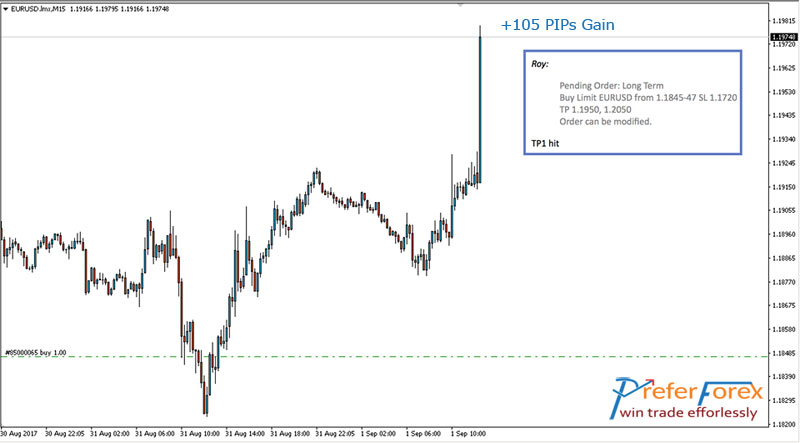 During such key economic release market became most volatile. A trader should use leverage properly and should not take more than 2% risk and should use proper money management. To get good profit trader needs to follow a specific news trading strategy. At PreferForex we trade cautiously and we instructed our premium member before trade place. Below you will find lots of our news forex trading success. 
Happy Trading! Cheers!