Forex Signals, Strategy & Courses
Strategy based on –
. Pure price action
. Market order flow
. Fundamental Analysis.
– Be a Profitable Trader.
Every signal we keep a standard risk ratio that is 1:2 or 1:3. To maintain this, we preciously select trade setup for signals before sending them out. In order to attain a higher profit, a real trader must evaluate low-risk trading.
We mention Entry, stop loss & take profit price value, So you can easily execute the trade by following our easy signals. As we give ONE take profit, here NO-Mulitple-TPs so No partial close.
Learn market depth as you trade with us also we give access to the Order Hunting Trading Course to the "Premium and VIP Forex signals" subscriber. This is online learning with video tutorials and tools and guides.
After successfully tested, from March-2020 we are implementing New Trading Method & Keeping performance recorded as follows-
Cumulative PIPs gain With Yearly Forcast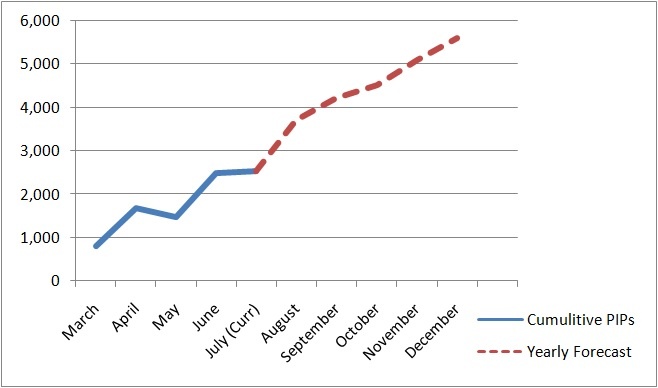 With every signal, we use only One Take Profit means one target only. NO multiple TPs / NO 1st, 2nd target. If a Signal Close with 100 Pips the profit is solid 100 pips, there is No partial Closing. If you trade with 0.1 lot 100 pips profit makes approximately $100 in your account.
Round the year all-time forex market doesn't show the same trading opportunity, so in any month if there is no good trade setup or performance is low or negative then we extend membership for FREE until back to profit. For an extended period, we don't charge. This is how we protect our subscribers. So if anybody takes forex as a business for a certain period of time follows our signals with our money management guide then must profit consistently for a long time.
Risk Management Strategy
Before Subscribing any signal services- this is wise to consider the risk management issues. Our signal methodology integrated with effective risk management.  We also, provide a free PDF guide on "Risk Management & Signals Using"
Like a Pro Trader, YOU can apply the correct risk management strategies by the help of our following signals benefits – 
Bigger targets smaller stop loss ensure Higher Reward then Risk.
We trade only Swing & Interday Minimum 50 to 200 PIPs TP.
ONE Take Profit, So NO partial close – Book the whole profit at once.
We suggest a 2% risk and we show in our guide how to calculate this.
If any month's performance is not good then we extend membership for FREE to recover.
Forex Signal Examples
A few charts examples of recent live trading to understand how the signal works.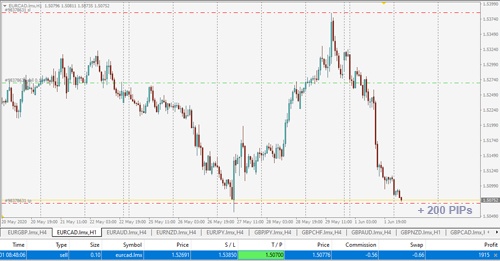 EURCAD Big Move in Downside We made +200 PIPs Profit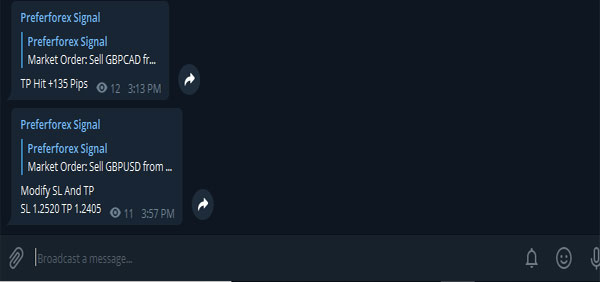 In MT4 terminal shows the trade closed with BIG profit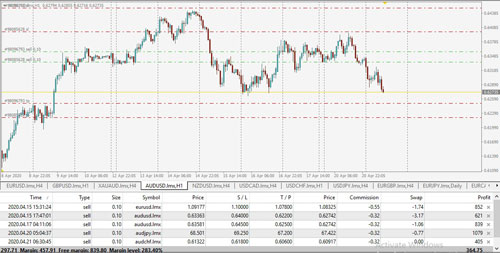 Till now shows $356 profit with 0.10 lot trading.. see more
ONE Take Profit – The Best Way to Trade
Hassle FREE Trade Management
For a busy trader, it is critical to use multiple TPs and it is risky for small equity also. We confidently Use only ONE Take Profit with all signals.
What our Clients Say About Our Forex Signals
Here a few reviews from our subscribers in the forexpeacearmy.com moreover numerous number of reviews in our email & some quoted in the review section

How does forex signal works –
YOU will get our signals in your email & Telegram
1. Set the trade as per alert
2. Connected with Telegram or email for any update
3. Close signal with P/L, closing alert also send.
– Join FREE Telegram Forex Sgianls Group here
https://t.me/preferforex
Telegram Signals as follows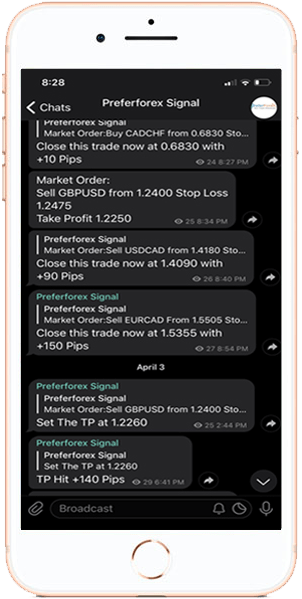 1. What is YOUR Trading Strategy?
We follow some pro traders' strategy including pure price action, market flow, and fundamentals that ensure risk-free trading.
2. How many signals do you send?
We send weekly  7 to 10 high probable long term and medium long term signal, we don't trade frequently rather wait for a good entry.
3. How to active signal service?
As soon as you subscribe to any package we activate the service and let you know through a welcome email. Our support is 24/7 so you can contact us anytime.
4. For which pairs do YOU send signals?
Our signals on all major currency pairs and cross pairs.
5. Can I see a signal Example?
Signal example "Sell EURUSD from 1.1325 Stop Loss 1.1375
Take Profit 1.1265".
What Are YOU Stopping For?
Get our 15 Days Trial – See our signals work for you. It is simple to cancel within 2 clicks.