Early Close a Running Trade

Why do need a trade close early?
Some common factors are as follows-
Lack of Liquidity 
Liquidity is the main key factor that moves the market. If the market is running with a shortage of liquidity there needs to close the trade.
Fundamental News
Any big fundamental events like NFP, FOMC, or Any central Bank events, like the rate decision of the Bank of England we trade cautiously.
Weekend Market Low Volatility 
It is risky to keep the interday set up over the weekend. In this case at the end of the trading week need to close all open positions.
Manual Close or Early Close
A trade may need close early before going to the target this is said manually closed. During trading sometimes we need to close early a profitable or losing trade if we found any special key level or lack of liquidity to move to reach the target. Here we close 100% of the lot. Sometimes we found such a trade. This is the example we sell entry the pair EURUSD @1.0015 it moves straight down to our target. But here some of the research shows it may not go down now and we close the trade at @1.000. Here is the details chart example in the chart.
Today's Signal was –
Sell EURUSD from 1.0015 Stop Loss 1.0030
Take Profit 0.9985, 0,9960
Trade update message – Close the trade now at 1.000 with +15Pips,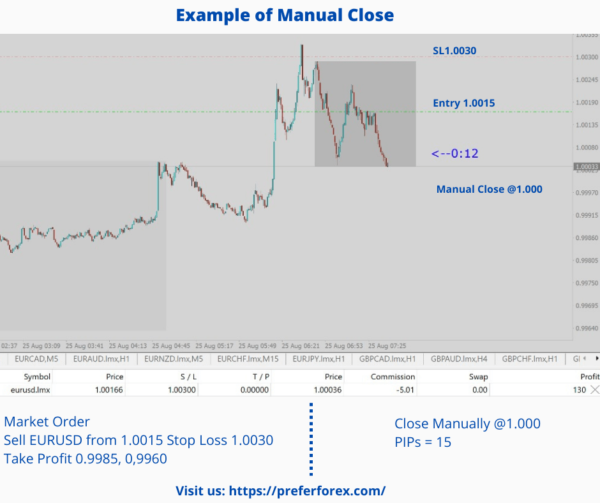 In this above trade, our entry was in 1.0015, and the stop loss was 15 pips at 1.0030 our first target was 30 pips at 0.9985 which as usual a 1:2 risk-reward for the 1st target. But the trade straight moving the target with zero draws most trade looks like this because of our institutional prices level analysis. Anyway, the trade stuck at the important level of 1.000 and our research team decided to close and send trade updates on WhatsApp and email accordingly.
Profit potentiality in this trade –
We close the trade at 15 PIPs
For the Standard lot here you can make 10×15 = $150. Here no partial close so full profit is booked.
That is how early close or manual close works.
How do we make more profit from this technique?
Our traders know that the market can back to the level again and observe the trade. As soon as the price is back to the expected level we send and sell signals and give a very good profit.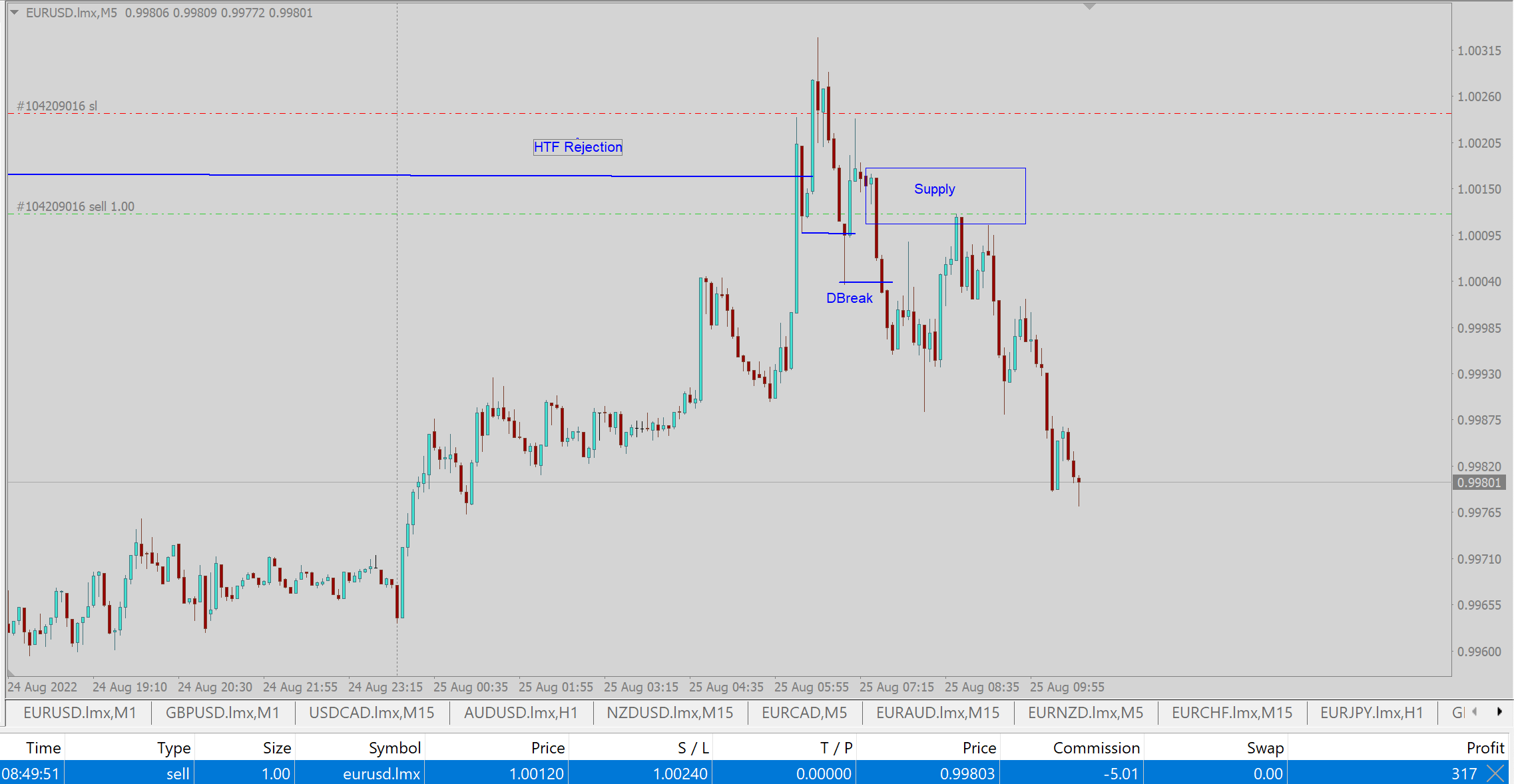 Again we send signals on the same pair EURSD as follows –
Sell Limit EURUSD from 1.0012 Stop Loss 1.0024
Take Profit 0.9980, 0.9955
Result – 2nd Target Hit
This was pending order the trade hit entry and without a single pip draw down it reach the first target and second target.
Profit factor in this trade –
Stop Loss = 18 PIPs
Fist Target = 32 PIPs
Second Target = 57 PIPs
Most of our trade goes to Target without a single pip drawdown. We manage trade very well which ultimately gives a good return.