Our Forex Signals evaluation May 2015. 
Forex traders experienced a big volatility in the month of May 2015. Daily market range became larger then previous. We sent some very profitable signals but those were not hit entry point for few pips PIPs later it goes to positive but we were not able to catch the profit. And some of the signals caught SL due to small SL was not working with the heavy volatility market. We experienced some losses first portion of this month.
Our long successful strategies were straggling for the time being to meet up with current market movement. Since consistency is our main key feature of our forex signals that we are keeping for years, our trader panel research deeply and in last week we gave some good signal and all of them hit the tp  and made happy all of our members happy with nice profit. Last week of May'15 we made +256 PIPS profit that cover all losses for this month and generate +90 PIPs gain. Whereas our previous gain such as April' 15 was +351 PIPs and March' 15 +262 PIPs. We have had some fascinating signals as usual which caught from extreme top or bottom of a movement. Below one examples entry from extreme bottom as pending order –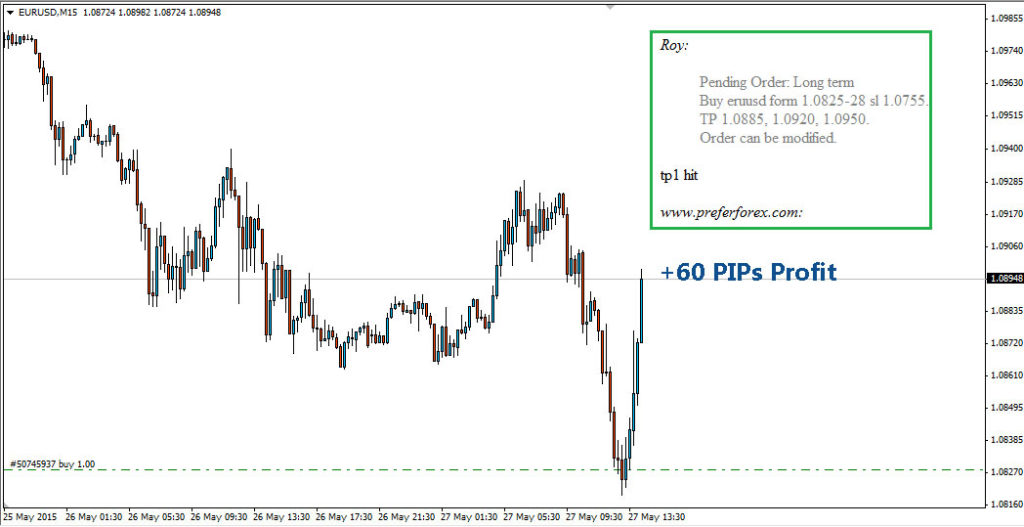 We believe in honesty and integrity so in this circumstance we gave circular to our members not to renew until we make some good pips and we extended membership for FREE. Be with PreferForex and get the best forex trading signals with wonderful service.