Weekly Technical & Fundamental View
Currency Pair – EURUSD (1st Jul to 5 Jul -2019)
Technical Analysis on EURUSD Video
EURUSD Breaks Several Resistance, Bullish Bias.
EURUSD is going bullish that was expected from our previous analysis. The week we passed was a less volatile week. Most of the pair was in a pullback or retracing mood because the previous week was a highly volatile week. EURUSD also is in retracing mood.
From the weekly view, we can see the pair facing a large demand zone, the price has bounced back several times from this Demand area. Now it is showing slightly bullish Bias. The whole week we passed where the price was in consolidating movement and closed as a small bearish candle.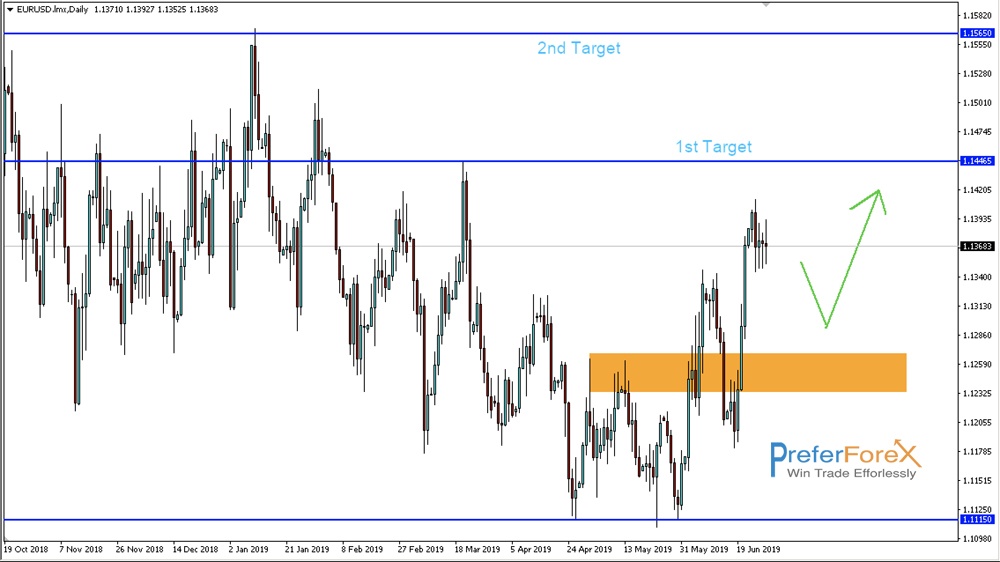 From the daily view, the pair has broken two resistances and moving up. Now is it is retracing mood to retest the broken resistance and those are now working as support. The recent high was at 1.1345 that also has been broken and create the new high and now it is pulling back.
It is expected that the bullish movement will be continuing targeted 1.14465 followed by 1.15565. The nearer strong support at 1.1115 and If the price breaks the support the scenario will be reversed.
There are some important fundamental events on the upcoming week for the currency USD including Non-Farm payroll. And those events can affect the movement of the Pair EURUSD.
In this Analysis, YOU can See Market Direction & Key Point. In Our FREE Premium Member Area – YOU Will Find the exact entry Point, Take Profit and Stop Loss Price. Our Latest Close Trade Made $1300 Here The Live Trade Video
Try Our Forex Signals for 15 Days FREE.
Never give up your personal data to others.
No Broker Promotion, No Broker Affiliate Offer Etc.
Get Signals In Member Area and Email Alert 
Forex Membership Service FREE
Dashboard for Watching New Signals and Updates

Exclusive Chart – To show various trading opportunity

Get Email Alert for Every signal and update Trade

How to Trade with Signals – Presentation

Trade Management Guideline

15 Days FREE To try, Value $79
We Don't ask need to open an account in our affiliated broker.
Get Our Next Analysis in your email –
Only Weekly Actionable Level Sent