What is Forex Trading?
10 Most Important Factors – Low-Risk Trade Example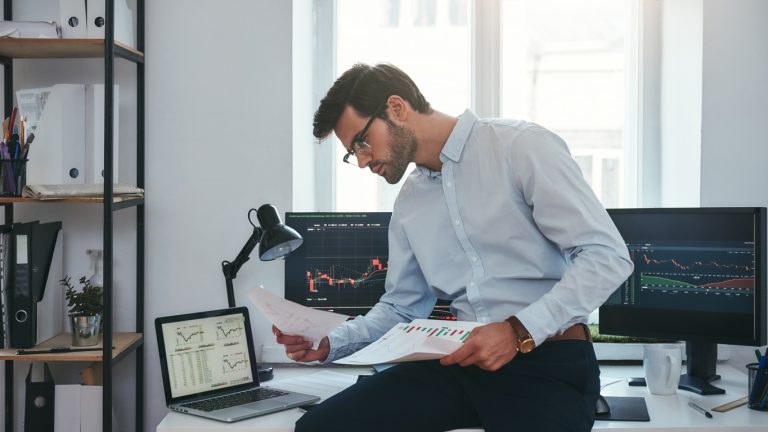 Forex is the most liquid market, where a retail trader can enter the market with a minimum deposit. But to avoid losses a trader must learn a lot. Here we discuss forex trading elaborately by pointing 10 most important factors.  To understand what is forex trader also know the following factors to trade well –
What is Forex?
What are Currency Pairs?
How does currency trading work?
Special Benefits of Forex Market
Generally Traded Currencies
Before Starting Forex Trading
Trade Executions in YOUR Terminal
Standard Risk-Reward Ratio
Avoid Get Rich Quick Services in Forex Trading
Trade Example With Correct Risk-Reward
1. What is Forex Trading?
Forex is a term that traders and professionals often use to refer to the currency exchanging market. The primary function that this market serves is facilitating the exchange of currencies between institutions, corporations, and individuals. It's by far, the biggest market in the world with the daily volume as of 2013 reaching over 5 trillion US Dollars. Most of it, about 80% occurs between large financial institutions and banks.
The main trading centers are London, New York, Tokyo, Frankfurt, and Singapore. The largest traded volume occurs in the city of London, hence, it is considered the capital of the Forex market.
The Forex market is an integral part of our life. Whenever you need to travel to another country or buy something from abroad, you will need foreign currency. Everyone is in some way part of this huge foreign exchange market.
The currency market is a unique financial market because it is open and trading all around the clock during the working days of the week. This trillion-dollar market opens 5 days a week 24 hours. it's not centralized in one place like other financial markets are. Instead, banks and financial institutions trade directly with each other through large financial networks.
2. What are Currency Pairs?
A "currency pair" is a Forex instrument. Such as EURUSD, USDJPY, USDCHF, etc. Forex is always traded in pairs. In the case of EURUSD, this parity means that you trade Euros against US dollars. If you buy EURUSD, you are buying Euros and selling Dollars. On the other hand, if you sell EURUSD, you are selling Euros and buying Dollars.
Major Currency Pair: Generally speaking, major currency pairs are considered to drive the foreign exchange market. They are the most frequently traded, Major currency trading volume is more than 80% of the daily trading volume. The four major currency pairs: are EURUSD, GBPUSD, USDJPY, and USDCHF there are also three Commodity Pairs – AUDUSD, USDCAD, and NZDUSD. Those pairs are highly liquid, consider stable and well-managed economies, and are less prone to slippage.
Cross-currency pairs: In this type of pair does not include the US dollar. The most frequently traded crosses currency pairs are EURGBP, EURCHF, and EURJPY.
We escape here from other types of trading pairs that are very risky for trading.
3. How does currency trading work?
Currencies are usually traded with each other in the form of currency pairs, called exchange rates of certain pairs. Such as EURUSD, the US dollar, and the Euro. Most currency transactions are facilitated by central banks and global banks for inter-banking settlement.
The central bank is the backbone of the money market. As a foreign exchange trader, your main purpose in buying and selling currencies is to make a profit. Your profit (or loss) is the difference between the exchange rates of the currency pairs you trade. The currency rate is always fluctuating here the live rate chart at Bloomberg
4. Special Benefits of Forex Market
Because of these reasons, the Forex market has special characteristics that offer traders attractive opportunities for profit, such as:
Selling is just as easy as buying – Unlike in the stock market, shorting a currency pair is a common practice. In fact, it's no different than buying a pair because of the way the Forex market works. When you go long on a pair, say EURUSD, you are simultaneously buying the first currency (Euro) and selling the second one (USD). When you go short, you are selling the first currency (EUR) and buying the second (USD).
Very high leverage available, even up to 1000:1
Clear and reliable chart patterns – Because of the high liquidity in the market, technical analysis tends to work better in the Forex market"
Compared to other financial markets smaller capital is required to start trading"
5. Generally Traded Currencies
The most liquidated currencies that are also traded, are the US dollar, Euro, Japanese yen, British pound, Swiss Franc, CAD Canadian dollar, and Australian dollar.
Unlike the stock market, the Forex trading market has no central exchange. With trading forex, you can make a profit (loss also?) whether the market is up or down. Contrasting, only make money when the stock market goes up.
Most Traded Currency Table –
| | | | |
| --- | --- | --- | --- |
| Symbol | Currency | Country | Nickname |
| USD | American dollar | USA | Buck |
| EUR | Euro | Europe | Fiber |
| JPY | Japanese yen | Japan | Yen |
| GBP | Pound sterling | Britain | Cable |
| CHF | Swiss franc | Swiss | Swissy |
| CAD | Canadian dollar | Canada | Loonie |
| AUD | Australian dollar | Australia | Aussie |
| NZD | New Zealand Dollar | New Zealand | Kiwi |
6. Before Starting Forex Trading
Forex online brokers provide a practice account you can see every broker has an opportunity to open a demo account. There are lots of guidance, and market forecasts for the beginning investor. Beginner traders can practice their skills in forex trading before actually investing in a live forex account with real capital.
Once you have gathered some basic skills, the lowest amount of investment can be made.  Some brokers' support is as low as $100.00. This 'mini-trading account is a nice way to start forex trading.  But keep in mind for inappropriate money management with such a small amount can blow up your trading account in a day.  So you need to learn something about money management. In spite of using a good trading system without correct money, management success goes far. For this reason, we provide a money management guide to our forex trading signals subscribers for free that helps a trader a lot. With the graphical examples in the guide, you will find some valuable tips.