We short on EURUSD and Made +180 PIPs
With the result of the USA election, the forex market was moving great and we didn't want to miss the chance of having some nice pips. We made +180 pips on EURUSD during the result declaring of US Election.
There were lots of analysis and forecast regarding forex trading in this huge big event of US Election 2016. We also had the preparation and observing the market accordingly. We did not trade last day but today when I found that EURUSD moving greatly that indicated me something deep on the market. As per my trading style, I went short on EURUSD.
We send a forex signal as pending order as follows-
Sell EURUSD from 1.1230 SL 1.1335 TP 1.1140, 1.1050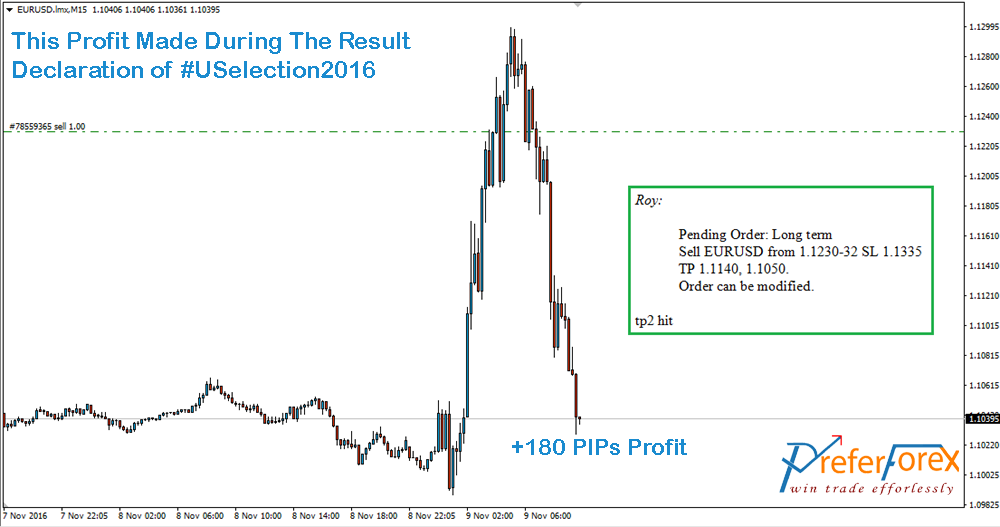 Since the market was moving fast the limit order triggered immediately after then it went to some pips opposite and completing this price action, the price again down toward our target got+180 PIPs profit
To trade on such a situation needs a good market understanding ability with a lot of forex market knowledge. Our members enjoyed the signal and made a handsome profit.
Mr. Donald J. Trump wins in this election, the US got a new President.  So, whoever you support Trump or Hillary our forex signal made all of our members happy today!