We never count the highest pips achieved from a trade.
You may find many signal providers count the highest pips from a signal either the trade reach TP or not. But we NEVER do this. We only count the pips if it hit the TP or if we give close instruction on a certain price.
If a signals provider counts the highest PIPs but the trade was not hit TP or without a close instruction by a provider that should not be ethical approached. Such irresponsible  signal format like – "Sell GBPUSD @1.6025 Close when you satisfied."
Without TPs how the followers can know where they should close a trade?
Our signals are well structural and clear entry TP SL.  In NO WAY we count such in our performance.
Here a case study of trade that we send as signals last month (Oct-14)
On October 16 we have a pending order which is as follows- 
"Pending Order: Long-term
Sell GBPUSD from 1.6025 SL 1.6140
TP 1.5935, 1.5880, 1.5850"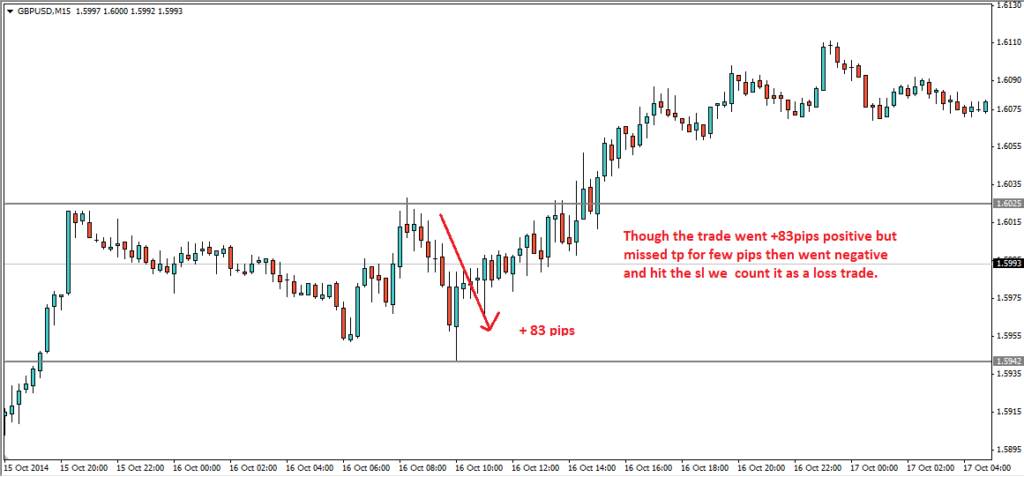 The trade triggered and went +83 pips positive where our TP was +95 pips. Suddenly the trade goes opposite and hit SL. The trade didn't hit TP for 12 PIPs and we have missed a good amount of pips. As we don't count the highest positive pips from a signal we have to count this trade as a loss. In such a situation you can find some signal provider count it as +83pips. There were many signals of us that missed up TP for only 2/3 pips then hit SL and we calculate this as a loss trade.
This is the difference between genuine forex signals provider and others. We always think the best benefit of clients for this we achieve loyalty.
We not only count this loss, we cover this and generate +370 PIPs next-
As we take the responsibility of this loss our trader team, we take extra care to make an even better trade next time to cover all losses of our valuable clients. We take a step to cover the loss in next time within the month. As a result, we were more conscious and gave 6 consequent high profitable signals that generated total +370 Pips.
Client satisfaction is our goal we achieve this through our highly experience people, our genuine service, and our integrity.
GOT A QUESTION? GET IN TOUCH