At the time of any effective fundamental issue, the forex market shakes much. Before that their lots of commentaries reviews published in various resourceful sites. Those are obviously worthy to feed up the brain to get advantage from real forex trading. Some traders keep away from trading and some jump into trades. Trader sentiment also does an issue during those occasions. All over a trader need vast experience to make a profit from those news events. We enjoyed lots of fascinating trading during FOMC, ECB Press conferences, US employment data, Central Bank Rate Declare, etc.  Really those trades give big profit in a short time. Our members for Forex Signals also fill up pocket with us as we find nice entries and close with decent profit by our forex news trading strategy.  There are lots of such good moment come round the year. Last day FOMC also blessing for us we have sent a pending order-
Pending order Sell AUDUSD from 0.7240 SL 0.7280 TP 0.7200, 0.7170, 0.7145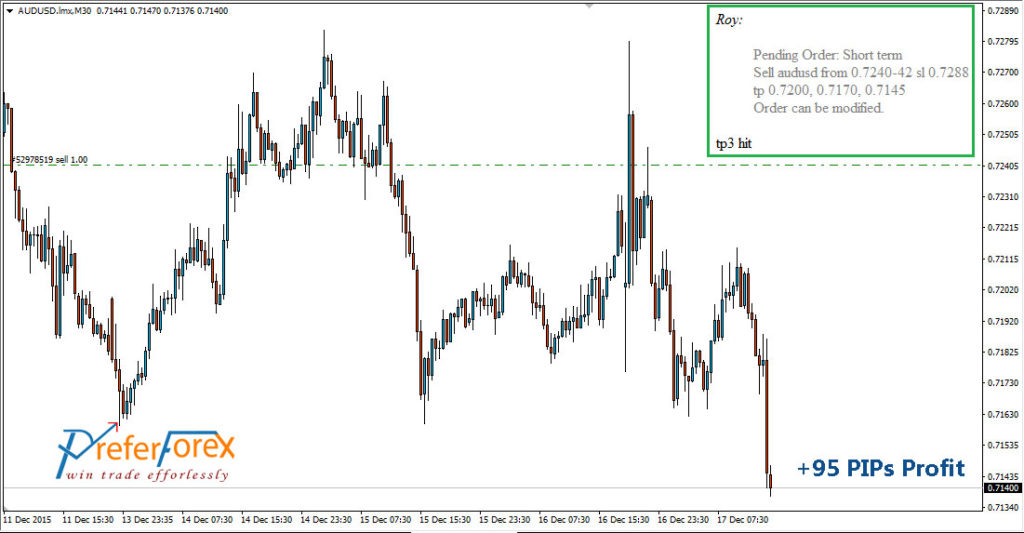 The above forex signal has been given ahead of FOMC statement and press conference. During news announcement, the order has activated and made +95 PIPs profit till now.
We trade on AUDUSD as I found some effective relation for expected movement in this pair. This trade gave us +95PIPs profit. Usually, news trading profit facilitates us to count big PIPs. Such as during the last ECB Press release on 3rd December – 2015 we made +170PIPs from two trades in a very short time.
You may get a view of those pending orders, I have written about those news trading alerts Big movement in EUR here >> https://preferforex.com/forex-trading-signals-ecb-press
The Reserve Bank of New Zealand cut the interest rate on Thursday, 10th of this month The NZD dollar rose for that easing.  We also trade as a pending order before the declaration we bought NZD our forex signals were as follows:
Pending order Buy NZDUSD from 0.6578 SL 0.6480 TP 0.6660, 0.6710, 0.6750.
That's also a nice pending order the trade triggered entry price 0.6578 and started making a profit by going to our projected target price and soon it reaches to final Take profit which gave us +172 PIPs profit
This is also true big profit also come from the normal trading day such as last week we made +155 PIPs profit from GBPUSD selling it was a long term forex trading signal send as a pending order on Friday it was staying over the week needs 3/4 days to make this profit. For such trade needs as much time to see profit comparatively news trading style. To sustain in the forex market needs some dependable forex news trading strategy and need to utilize chances as per market is given.
CNN money reported "America's first interest rate hike in nearly a decade" so it was important in fundamental views. Already you may notice some heavy weighted resource published various sites. You can read more about Wednesday FOMC here http://money.cnn.com/2015/12/16/news/economy/federal-reserve-interest-rate-hike/index.html
With some fabulous trade of the month of December'15, we made as of today +406 PIPs that nicely valued our yearly gain. Forex trading environment always may not in trader's favor but market knowledge good strategy help us to make a consistent profit that is the key to success in the trading arena. Best of luck and enjoy the upcoming atmosphere of the year ending festivals.