To evaluate what types of trading is fit for you we have made a vivid report with concise, transparent, valuable information. NOT information overloaded; this case study help you – How a real forex investor can earn a decent return.
PreferForex gives only high probable signals keeping enough time in hand so that trader can enter in the market comfortably and can gain projected PIPs. This is not unrealistic thousands of pips gain statement.
[ninja_tables id="18955″]
The Performance of -2016 at a Glance
As you can see in the overview of 5 months long term trader never been loser this is the character of the market. If you have endeavor to gain in the market then simple don't evaluate this only for certain period of time like 1 week or 1 months. Because this is big volatile market lots of fundamental, intermarket relation here. So all month can not be same performing and all year also.  But you can take your PROFIT from this market with a dependable strategy and sticky with trading for minimum quarterly or half yearly basis.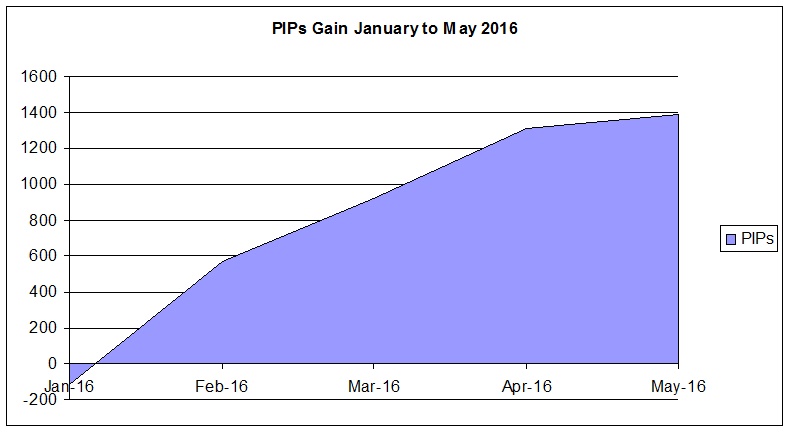 You can see January was losing month but in February market prevail good earning opportunity. Some members may leave the signal service after facing January result but they could miss the good return of February. For this reason WE NEVER LEFT A MEMBER WITH LOSS. We keep them and give free signals until cover the losses and help them to make guaranteed pips because we are confident enough from our long testing multiple strategies that a good trading time is in next.  This honest approach of Mr. Roy makes us UNIQUE.
In this report we can see average monthly return is 278, a discipline trader can realize the value of these real pips. Nobody can predict accurately which month will be best. In the month of may'16  we made low profit that is only 80 PIPs it can disappoint who join in this month but we know here have the possibility to get a month like February were we made 680 PIPs or like march & April that give 357 and 386 PIPs.
Forex is a serious business we encourage those traders to join with us who risk aware and can sticky for few months. To keep in mind we give €26 off and give 600PIPs guarantee for 3 Months Subscriber.
There are lots deceptive information is spreading regarding forex trading that make to believe people needs thousands of PIPs required to be success. But we are based on realistic trading and ensure every alert can be executed by members.