News Trading grab +145 Pips profit During ECB Press Conference and NFP based on our news trading strategy.
News trading can bring nice profit if a trader can utilize it the proper way. Usually, news trading is risky but a trader who understands the market can make a nice profit by using news movement. As usual our earlier forex trading signals performance you may see we brought many more big profit during important fundamental forecasts.
Recently 2 high impact news forecast shake the market greatly and we have taken out the advantage from both of forecasts
On 2nd June 2016, we have sent out a signal on EURUSD just 10 minutes before of ECB Press Conference.
The signal has been sent as pending Order as follows:
Pending Order: Short term
Buy EURUSD from 1.1170-72 SL 1.1145
TP 1.1200, 1.1220, 1.1240
At the time of Press Conference, the signal got activated by hitting the entry point and within a short time it reaches the first target and we close the trade.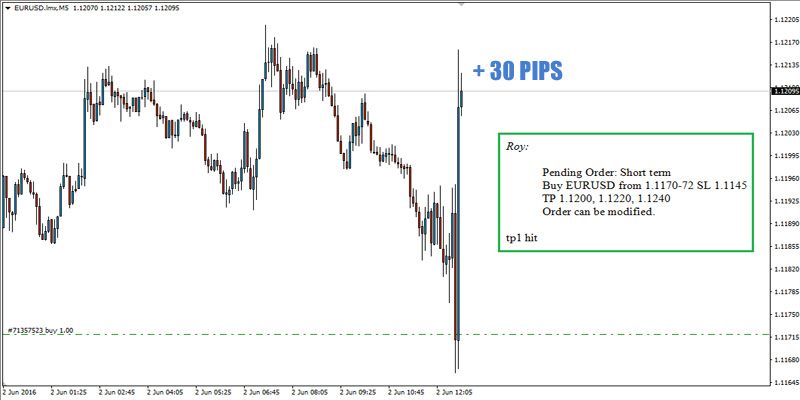 During this ECB event, we make +30 Pips profit for our members.
On the 3rd June 2016, there was NFP, we had a running signal on GBPUSD.  The signal had been sent as a pending order that got activated and was in running during NPF, the signal as follows :
Pending Order: Long Term
Buy GBPUSD from 1.4435-33 SL 1.4380
TP 1.4485, 1.4525, 1.4550.

During NFP release the trade gave us a nice profit on +115 pips for our members.
Related Article forex news trading strategy https://preferforex.com/forex-news-trading-strategy