To be successful trader a newbie trader first needs to learn various order types and how to apply this during trading. Here we have discuss almost every aspects of trader in this tutorial we are putting all order types together so that not to make any error during trading.
What is Market Order ?
Market orders are those that are executed immediately at the current rates that are known in the market. For example, suppose the GBP / USD is trading at 1.6842 right now. If we want to buy at this price, we must click on buy and your trading platform will instantly execute a purchase order at that price.
When closing a position manually, the trader is also technically executing a market order for the same amount as the open position but in the opposite direction. To close a position bought in GBP / USD, the trader only has to sell the same amount he has bought. This is what is also called a clearing or settlement operation.
It is important to note that with almost all brokers, your profits and losses will be accumulated in the currency in which your account is denominated. For example, if we close a position bought in USD / JPY, it will be buying The Japanese yen again, but your profits or losses will be converted to the currency in which you have your account in the broker, so you do not have to worry to do it
Finding the problem of placing proper SL and pending order level and Steps to solve out the problem.
Sometime you may see that you order doesn't trigger though the price reaches the level or sometime you may see that you SL triggered earlier though the chart price doesn't reach the level. And when you see that the price is going the profit zone, but you can't make a profit and this makes you so worried. Read the below article carefully to know the cause of this and how to overcome this problem.
We have posted earlier on Proper Stop Loss placing following article will give an even clearer view.
Pre defined Orders: First, you have to get an idea on some predefined orders. Such orders are Stop Loss, Take Profit & Pending Order.
When a predefined order level (e.g. SL, TP or Pending Order) is staying above the current price and is going to hit the level. Then it hit a few pips earlier depending on spread through the chart price is still isn't reaching the level.
When a predefined order level (SL,TP or pending order) is below the current price and is going to hit then it hit few pips later depending on spread through the chart price reach the level.
This can create a problem in two types of trading:
1) At the time of setting SL of a sell order:
In this situation, the SL level is above the current price level and it will hit earlier, though the chart price will not reach the level and make you out of the trade.
How to Overcome: To overcome the situation you need to add spread to the SL. Or you can simply close the trade manually at the given SL level.
2) At the time of setting buy pending limit order:
In this case, the order level is below the current price level. Though the chart price reaches the level it may not hit your order because of the spread.
How to Overcome: In this situation you need to add the spread to the order level to get triggered at the proper price. Or you can simply execute it manually at the given price range of order.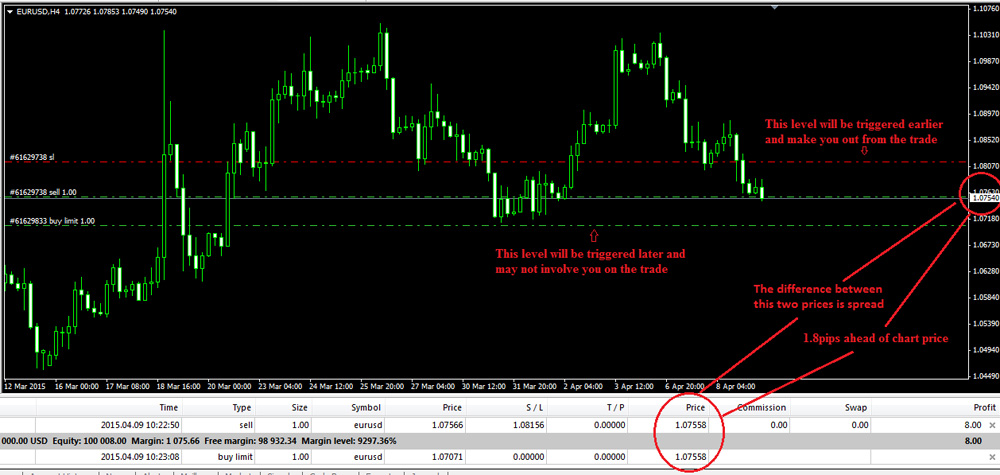 Every trader must have to know this in order to proper trading. Wherever you trade you will be benefited if you know this.
Are you trying to perform successful Forex trades? Do you have doubts about how to boost your profits by trading ? You should know that Forex trading cannot be beneficial without first considering a Forex strategy . We have tested our own strategy to adapt our own style of trading. That is making profit consistently. Get Copy the Forex Signal in your mt4 terminal same trade as we do.
Related Articles
Are You Able to Set Correct SL ?
Forex Stop Loss Take Profit & Trailing Stop