Latest Trade On EURJPY  Gain $800 Profit
+80 PIPs Solid Profit
EURJPY Technical View A Downside Continuation
The EURJPY  a strong downside occurred, it is likely that the EUR/JPY currency pair got a strong selling pressure and continued its downward. During the morning hours of Friday's trading session, the downtrend was moving to weekly Support at 121.38.
Also, The European currency has depreciated about 50 base points against the Japanese since yesterday's trading session.
We sell EURUJPY on 11th June, This is our Medium long term Signals. We sell from 122.72 that point shows price breaks important key levels.
In Primum Member Area We post Important key levels and Email Alert with Entry, TP, SL of major pair Try this For FREE 
As seem this level attacks more seller we keep continuing to the trade and update our Premium members to adjust SL TP a bit.
Our Signal Was As follows below the email screenshot –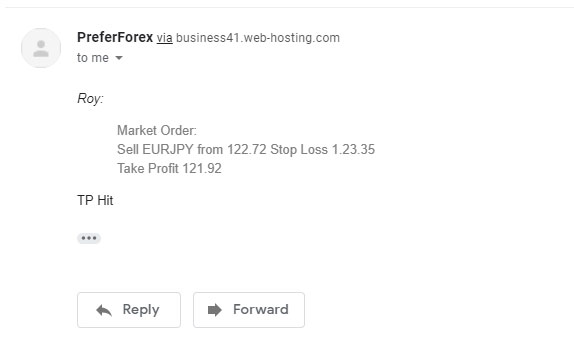 The trade successfully hit the take profit 121.92 today during London Session that is solid +80 PIPs gain.
We use only 1 take profit there are NO TP1, TP2 So our members can make the full profit E.g. if 1 standard lot traded by this signals profit is $800 (aprx.)
Try Our Forex Signals for 1 Month FREE.
Never give up your personal data to others.
No Broker Promotion, No Broker Affiliate Offer Etc.
Get Signals In Member Area and Email Alert